Fforest Barn
FoodFforest
Fforest barn's ethos is all about connecting with nature and optimising nutrition by growing food in an ecological, nourishing and sustainable way.
We encourage you to use our home grown 'beyond organic' food and other local produce as much as possible and we will give you access to local suppliers. To order what we have available go to Fforest Shop. Catering is available for large groups, special events and retreats using local produce, low GL optimum nutrition ethos. Options available on application if you're booking to run a retreat.
Become a Food Fforester
If you dream of growing your own food in wild nature we invite you to become a Food Fforester to connect with and spend time in wild nature, grow and eat your own super-healthy food, being part of a community of like-minded people committed to being healthy, feeling good in mind, body and spirit and making a difference in the world.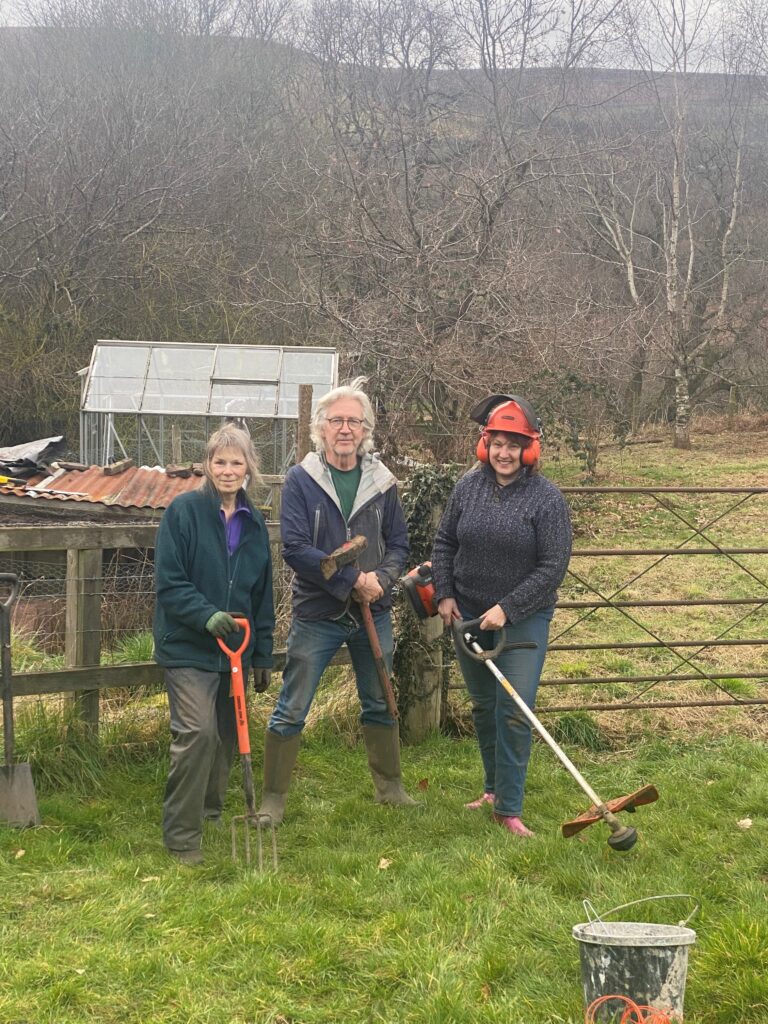 Here's the deal
You come and stay for 4+ days (or 16 days across a year for 'Rock Stars') in our beautiful farm with communal meals provided, shared with a small group (5-8) of like-minded people.
Each morning starts with optional meditation, yoga or chi-generating exercises
You spend 5 hours working on the land, helping grow food in our 'no dig' FoodFforest. This film explains the principles.
The rest of the time is yours to walk in the mountains, enjoy wild nature, visit Llantony Priory, the 9th century Partishow Chapel, the high mountain Gwynne Fawr Resevoir, walk across Bryn Awr , Sugarloaf mountains or the Skirrid or just chill.
In the evenings there are talks, or Q & A sessions around the fire.
You go away with a veg box of fresh food that you've grown, depending on what's available seasonally, also with delivery options.
The cost is from £40 a day which covers all food and accommodation.
The best deal is to become a Rock Star, committing to coming for 16 days in a year (could be 4 times for 4 days, or twice for 8 days). This costs £800 for single accommodation or £640 each for couples – friends or partners.
If you'd like to just come once to start with you are most welcome. It's £60 a day, or £100 for couples (£50 each) for a minimum of 4 days up to 8 days.
Places are limited and we need to know a few things about you. Please complete this questionnaire, choosing the block of time you'd like to come within, and your preferred dates during this block of time. If you're coming with a friend or partner, willing to share, please BOTH fill out your own questionnaires, and ADD the name of your partner in the box 'coming with', stating if you prefer double bed or twin beds (these are limited). We will then get back to you within 48 hours.
Eating Out
Some of Britain's best restaurants with Michelin star winning chefs, at a fraction of the price you'd pay in London, are in a stone's throw of Fforest barn. Our favourites are The Walnut Tree on the other side of Skirrid Mountain and The Hardwick Restaurant in Abergavenny. The Bear Hotel in Crickhowell and The Crown in Pantygelli, which is our local pub, five minutes away or a lovely one hour walk across the hills.
Fforest barn's ethos is all about connecting with nature. We encourage you to use local produce as much as possible, some reared on the local Farms, and we will give you access to local suppliers.
Fforest Shop
To order what we have available go to Fforest Shop.
PRICES & RESERVATIONS
SUMMARY
OLD BARN
2 double bedrooms
Central cone open fire
Fully equipped kitchen
Hot tub on patio
AV/TV/wi-fi
Outdoor firepit
DUTCH BARN
2 double or twin bedrooms
Sleeps up to 6
Open plan living space
Wood burner
Drinks area with fridge
AV/TV/wi-fi
ECO POD
Double or twin garden accommodation